As India leading HR outsourcing company, SGC Service (www.sgcservices.com) has a well-established and robust payroll system in place that is a combination of state of the art software platform, expert know how and a strong payroll team.
Payroll is about taking care of your most important asset – Employee People.
It has two perspectives to it – employee perspective & Employer perspective. The payroll service provider has to take care of employee requirements, yet ensuring that the employer is compliant according to all the applicable laws.
SGC uses the unique blend of 3 Ps to achieve this – People, Platform and Professionalism.
Outsourcing of payroll process allows companies to avail the above mentioned at a reasonable monthly cost.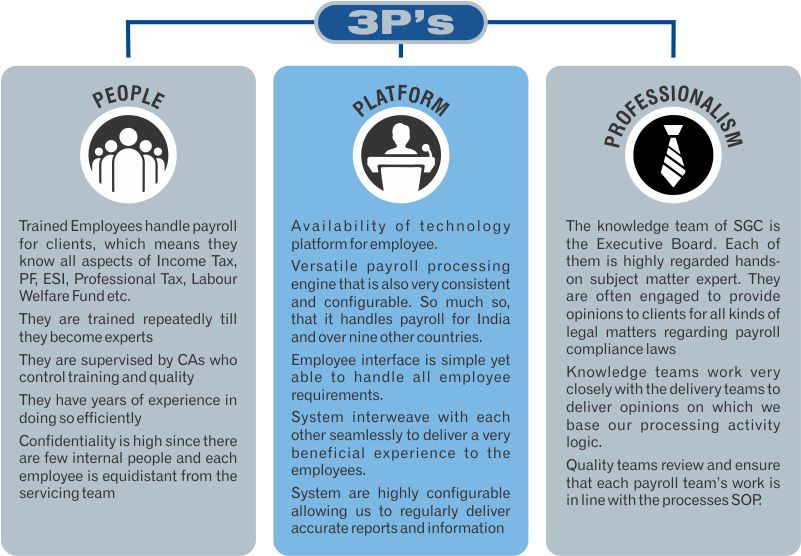 Payroll Services
We have well defined SOPs, quality standards of accuracy and SLA's for each of our processes. We minimize data handling by automating most of the tasks. We base our Payroll processing rules and logic on the opinion of our knowledge experts who closely monitor the various government and Tax regulations.
Multi-level of maker and checker ensures detection of any variances / minimises chances of any errors. Independent QA team monitor the work of the main processing teams. This enables us to provide highest quality service and achieve near 0% defect.
Our People & Quality Standards
We regularly train our Payroll team in accurate processing, client servicing and compliances. This adds to their knowledge and experience to handle diverse set of payroll needs. SGC's employees are committed to the company and the clients. They appreciate and understand that a satisfied employee is the mainstay of a successful client.
We have designed our platform, processes and interfaces; trained our people to satisfy the requirements of our two main customers – employees and their employers.
Payroll Process Technology and Data Security
SGC main business comes from referral clients. Clients refer other clients to us. That itself speaks for our relationships and our commitment to our clients.
SGC prides itself in using the optimum blend of technology and human touch to create the best experience for our clients and their employees. We have automated and customised our EIS (Employee Portal) to provide most of the information that employees require regarding their payroll. At the same time, we maintain highest quality standards – having obtained both SSAE 18 – Level 1 & 2 certifications. Through all these measures, we deliver confidential information in a secure, accurate and reliable manner.
End to End Payroll Process Management – joining to exit
Monthly employee documents - Pay slips, Tax slips, Reimbursement slips
Comprehensive F&F sheets, Settlement Process
Flexi Benefit Plan structuring by employees on Employee Portal
All compliance reports including Journal Vouchers for upload in to financial system
Online Investment proof upload & verification
Quarterly and annual income tax return processing and filing
Issuing Form 16 – combining Part A & B into one form and digital signatures possible.
Leave travel claim processing
Highly configurable pay structures
Most versatile compensation head creation
Customized reports & JV – as per client requirements
Online reimbursement entry by employees & approval
Query management system with advanced helpdesk
Compliance support for payroll related - PF, ESI, PT, LWF
Payroll Reports
All statutory reports
Branch / Department / Grade / Cost code / Location / Category – up to 13 categorizations supported
Report / Output for Selected Employees
Selection of many other parameters
Loan Reports
Set up Loans – Amount, EMI, Interest
Option to update Income Tax Data for considering the Differential Interest as perquisites
Waive deductions for some months.
Option for Month Wise Details
Variation statements – Masters / Head wise
Other Reports
Report of Current Months vs the Previous Month
Reports Changes /Addition / Deletion.
Salary Report
Statutory Reports
Salary Register
ESIC Challan
ESIC Form
PF Challan
P.F. Forms
Prof. Tax Forms
Income Tax Form
Monthly Reports
PF Report
Option for Trust / RPFC
PF No. Wise sorting
Employer's & Employee's Contribution
Details of EPF & VPF / Loan & Interest
PF & ESIC Challan
For A/C No's. 1, 2, 10, 21, 22
Employer Share, Employee Share.
PF Admin / DLI charges
Professional Tax Statement
Income Tax Reports
IT Computation Statement and Report
Salary Register
Option to update the Employee Master for Computed Income Tax Amount.
Form 16 / 12 BA
Form 24 / Form 24 Quarterly
IT Challan Details
We are confident that the SGC Services Payroll Processing offering will not only reduce your internal costs but offer superior value on three fronts:
Source to Gross Workflow: The complexity in payroll does not arise in gross to net– that is a mathematical calculation – but in source to gross. This involves gathering and synthesizing the various monthly and master inputs into payroll often from various sources. SGC's proprietary Payroll system has it all to ensure this workflow is timely and accurate.
Multi-mode Self-Service Suite: Our EIS system enables each individual to manage his complete life cycle for tax declaration and proof submission online with anytime access to his payroll data. We offer our clients a state of the art HRIS solution, which enables them to manage employee database seamlessly and reduces chances of errors. Our HRIS has the following suites to offer:

Leave and Attendance management (with Bio metric integration, Geo Tagging and Geo fencing).
E on boarding and E exit management
PMS (Performance Management) and TMS (Training Management)
Request for hire
Asset management
ESOP management
Travel and expenditure management
Loan request
iOS and Android apps for employees
This suite put information in the hands of line managers, employees and corporate staff for better control. We currently manage more than 5 Lakh transactions and have tight standards for responsiveness
Dashboard/ MIS Infrastructure: The SGC proprietary system allows for a complex set up of cost centers, SBU, line manager reporting, geographic zones, etc. The configureable Dashboards for selective viewing ensuring confidentiality with access. The platform currently handles over 100,000 employees in over 800 locations across the country.
We are confident of being able to service your needs and offer a peace of mind for you to focus on your core business needs
Our scope of work